Defense Target II
Regular price
$19.75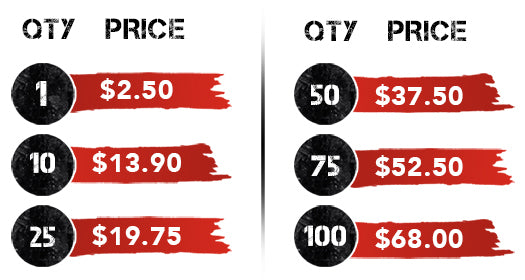 The Defense Target II
The Defense Target II is designed to give you an enhanced training experience by offering one target that can be customized with multiple stickers. The Defense Target II features an individual that can transform from an FBI agent to an office active shooter to a business no-shoot with the simple change of our customized stickers. This allows the target to be used in multiple different scenarios.  Available sticker areas include:
The Defense Target II Explained
Each sticker is designed to perfectly match up with the target's hands, chest area or hip to create a new target scenario that appears natural to the shooter.  This allows instructors to take one target and change scenarios rapidly. By changing the target constantly, students are forced to look at different places on the body to make the right decision of whether or not the target is a threat.
The Defense Target II matches up with the varied stickers (sold separately). These stickers overlay on the right hand, left hand, chest and hip seamlessly.  These durable 3 Mil stickers allow for hundreds of target variations.  Stickers are designed to be used while wearing gloves. 
Target Scoring
The Defense Target's scoring areas are designed to be as close to the average human's anatomy as possible.  The "5" head box measures the average width and height of a human head while the "5" heart box is purposefully offset slightly right (target's left) and sized to the average human heart.  Both "5" areas are designed to mimic a kill zone. The "4" zones match the average lung size and pelvic girdle area and are designed to mimic a shot in which death is probable but not guaranteed.  The "3" represents the outline of the average human body and represents an area where death is possible but not likely.
https://youtu.be/4w30VUmHJMA
23 x 35"
Made and Printed in the USA
Read More